Tuesday, June 9, 2020
The Covid 19 Pandemic seems to be hanging around even though much of the population is choosing to act as though they are immune.
Likewise the protest over the George Floyd killing are still active but mostly non-violent.
Tomorrow I hope to be able to post some of the page updates on the website.
Secretariat
Performed This Spectacular Display on June 9, 1973
With a spectacular victory at the Belmont Stakes, Secretariat becomes the first horse since Citation in 1948 to win America's coveted Triple Crown: the Kentucky Derby, the Preakness and the Belmont Stakes. In one of the finest performances in racing history, Secretariat, ridden by Ron Turcotte, completed the 1.5-mile race in 2 minutes and 24 seconds, a dirt-track record for that distance.
On June 9, 1973, almost 100,000 people came to Belmont Park near New York City to see if "Big Red" would become the first horse in 25 years to win the Triple Crown. Secretariat gave the finest performance of his career in the Belmont Stakes, completing the 1.5-mile race in a record 2 minutes and 24 seconds, knocking nearly three seconds off the track record set by Gallant Man in 1957. He also won by a record 31 lengths.
Ron Turcotte, who jockeyed Secretariat in all but three of his races, claimed that at Belmont he lost control of Secretariat and that the horse sprinted into history on his own accord.
Secretariat would race six more times, winning four and finishing second twice. In November 1973, the "horse of the century" was retired and put to stud at Claiborne Farm in Paris, Kentucky. Among his notable offspring is the 1988 Preakness and Belmont winner, Risen Star. Secretariat was euthanized in 1989 after falling ill. An autopsy showed that his heart was two and a half times larger than that of the average horse, which may have contributed to his extraordinary racing abilities. In 1999, ESPN ranked Secretariat No. 35 in its list of the Top 50 North American athletes of the 20th century, the only non-human on the list.
---
Monday, June 8, 2020:
I have been experiencing a breakdown in the machines in my office and consquently failed to get an update posted since June 1, 2020. I do think and hope that the situation is now resolved and perhaps we will make some progress going forward.
Thankfully, the unrest that has been taking place across the nation seems to be settling down to a civil likeness.
Sometimes I place a little notation here about some events current or historic. It is not my desire to engage in political manuevring in any fashion but historical events should not be viewed as political manuevring in my view and I do like to mention some historic events from time to time and I do also support a page on the website that has some more detailed historical events supported. While it is true, in my belief, that history itself is or certainly can be political, I make an effort to take the political issue out as much as I am able to recognize.
Sound Familiar
Great Plague of London In 1665 and 1666, the last great outbreak of bubonic plague to hit England swept through the capital, London. The outbreak was much smaller in scale than the Black Death of the 14th century, but was still notable for having killed as many as 100,000 people - about a quarter of the city's population - in eighteen months.
By July 1665 the plague was spreading rapidly in London. Many fled, including the King Charles II, if they were wealthy enough to afford it. Parliament was moved to Oxford University from Westminster Palace. Many of the city's businesses closed. Diarist Samuel Pepys wrote much about life in the city during the plague, and of empty streets.
By September, as many as 7,000 people a week were dying, and many were thrown into mass graves. The true toll was likely to be much higher, since the deaths of poor were not recorded.
The University of Cambridge closed down during the outbreak, forcing a young Isaac Newton to continue his studies from home - during this time he expanded significantly on his new idea about the laws of gravity, among other things.
By November the outbreak started to taper off, and the King returned in February the next year when it was considered to be safe enough. Disaster would strike London again in 1666, with much of it being destroyed in the Great Fire of London that September.
---
Monday June 1, 2020
Sadly, the "murder" of George Floyd on Monday has sparked nationwide protests—more sadly, these protests are nearly always accompained by those who crave violence. It is our fervent hope that these protests can be ended soon and peacfully.
---
Thursday, May 28, 2020
Tragically, the United States of America has now catapulted beyond the 100,000 mark of human lives that we have surrendered to the coronavirus. A terrible and sad event that could have been and should have been heavily mitigated.
Sadly, it appears that the states are rushing a bit to reopen and I see no way that these actions can avoid the price tag of an awesomely heavy toll!
---
Wednesday, May 27, 2020
Lyceum movement
From Wikipedia, the free encyclopedia (Redirected from Lyceum Movement)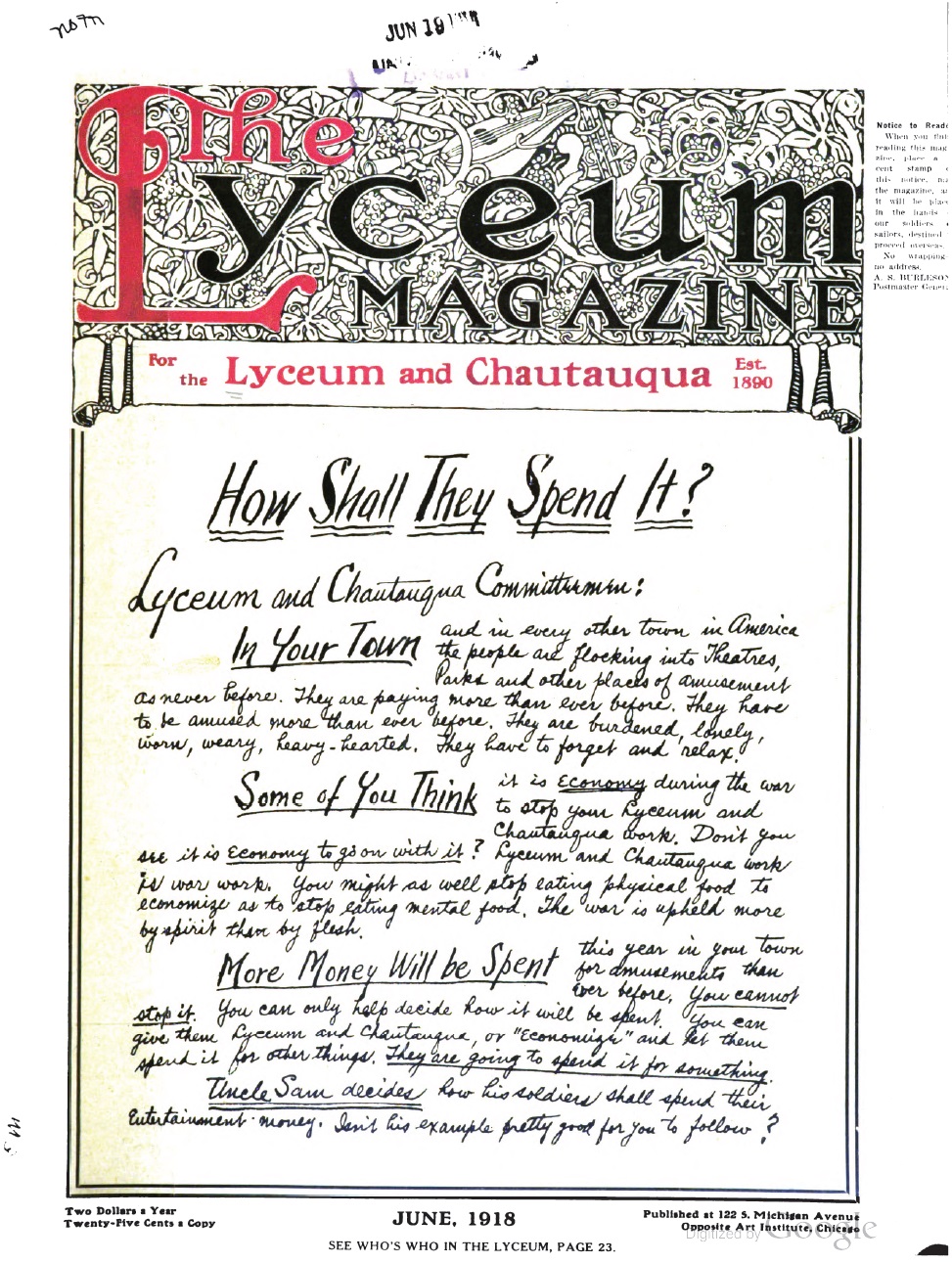 By The Lyceum Magazine(Life time: unknown) - Original publication: The Lyceum Magazine, Chicago, Illinois, Volume 28, number 1, June 1918Immediate source: https://books.google.com/books?id=rmjlAAAAMAAJ&dq=editions%3AaMF3iFKbRw8C&pg=PA1#v=onepage&q&f=false, PD-US-expired, Link
The lyceum movement in the United States was a series of organizations which sponsored a variety of public education programs and entertainments. They flourished in the mid-19th century, particularly in the Northeast and Midwest. Some of these organisations lasted until the early 20th century.
The rest of a good story is here on Wikipedia
There are many interesting stories about and concerning the Lyceum movement and this is another.
---
Tuesday, May 26, 2020
COVID-19 Coronavirus is still here following the Memorial Day Holiday where, in my opinion, celebration should not have been attempted this year. My opinion, however, and fortunate I think it may be, is not widely listened to or practiced. I just hope that the anxiety released by many is not costly to them. Of course, traditionally, many are killed and injured in traffic accidents during this holiday--so possibly the virus may have curtailed enough traffic to save a whole bunch of traffic accidents... That is my hope, along with the sincere wish that the failure to wear masks and practice physical distancing does not also have a devastating effect upon us.
I suppose there will be some reporting on all that happened in the days to come and If I can I will mention it here.
---
Monday, May 25, 2020:
MEMORIAL DAY
UPDATED: MAY 24, 2019 10:15 AM ET | ORIGINALLY PUBLISHED: MAY 24, 2015 7:00 AM EDT
It's easy to forget what Memorial Day actually means while you're sitting by the pool and looking ahead at summer vacation—but the historical reason for the holiday signifies much more than just a three-day weekend.
Memorial Day is a solemn day of remembrance for everyone who has died serving in the American armed forces. The holiday, originally known as Decoration Day, started after the Civil War to honor the Union and Confederate dead.
God Bless and Keep our troops home and abroad, active and inactive and PLEASE remember all our Veterans.
---
Sunday,May 24, 2020
Covid 19: States Re-Opening: Most states have or are reopening at least partially for the Memorial Day Weekend and the President has declared that churches are Essential and that they may be opened.
Cases in the U.S.: 1,622,114 & 26,229 New Cases* Overnight;
Total Deaths; 97,049; & 1,047 New Deaths* Overnight;
The paper lists the names and lives of nearly 1,000 victims.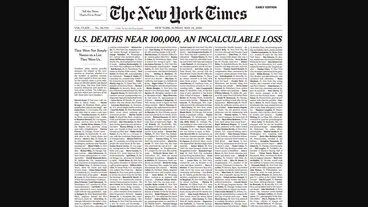 So terribly sad! We absolutely know that many of these people should still be with us!
---
Saturday, May 23, 2020
Just getting started. Still trying to get a grip on Dreamweaver 2020. Tried to install "Git" but it is not working for me yet.
1960
May 23
High-ranking Nazi official Adolf Eichmann captured
On May 23, 1960, Israeli Prime Minister David Ben-Gurion announces to the world that Nazi war criminal Adolf Eichmann has been captured and will stand trial in Israel. Eichmann, the Nazi SS officer who organized Adolf Hitler's "final solution of the Jewish question," was seized by Israeli agents in Argentina on May 11 and smuggled to Israel nine days later.
For the full story go to "This Day in History"
---
Friday, May 22, 2020
1843
May 22
A Thousand Pioneers Head West as Part of the Great Emigration
The first major wagon train to the northwest departs from Elm Grove, Missouri, on the Oregon Trail.
Although U.S. sovereignty over the Oregon Territory was not clearly established until 1846, American fur trappers and missionary groups had been living in the region for decades. Dozens of books and lectures proclaimed Oregon's agricultural potential, tweaking the interest of American farmers. The first overland immigrants to Oregon, intending primarily to farm, came in 1841 when a small band of 70 pioneers left Independence, Missouri. They followed a route blazed by fur traders, which took them west along the Platte River through the Rocky Mountains via the easy South Pass in Wyoming and then northwest to the Columbia River. In the years to come, pioneers came to call the route the Oregon Trail.
In 1842, a slightly larger group of 100 pioneers made the 2,000-mile journey to Oregon. The next year, however, the number of emigrants skyrocketed to 1,000. The sudden increase was a product of a severe depression in the Midwest combined with a flood of propaganda from fur traders, missionaries, and government officials extolling the virtues of the land. Farmers dissatisfied with their prospects in Ohio, Illinois, Kentucky, and Tennessee, hoped to find better lives in the supposed paradise of Oregon.
---
Thursday, May 21, 2020
Trying to update navigation bar links and so far it is escaping me the correct options to choose and use. My formating is inadequate but in my defense--(defense is a poor choice of words in that in reality there can be no defense for the position I am in) a better word or phrase is "but my humble and inadequate excuse is that I simply lost my way as is evidenced by the "Word of the Day Page". I looked at the Word of the Day page and the last edit there was 2009 and going back only one four (4) edits/entries and the date was 2005. That leads me to believe that it must have been at least 2009 since any serious or not so serious updating has been done here. All of which is NOT a straw of merit in my hat but a rather weak admonishment to my lousy effort.
---
Wednesday, May 20, 2020
As of May 19, 2020, the outbreak of the coronavirus disease (COVID-19) had spread to six continents, and approximately 320,560 people had died after contracting the respiratory virus. Around 32,000 of these deaths occurred in Italy and in the United States of America over 90,000 deaths thus far.
---
This Day in History, 1862
President Abraham Lincoln signs the Homestead Act, providing 250 million acres of free land to settlers in the West.
---
Site work
I just started running Dreamweaver 2020 and I find that it has some idiosyncrasy(s) that I must work through; I look forward to learning the program.
Trying to get the navigation menu pages updated and working properly.
---
Tuesday, May 19, 2020
Africa--2016
May 19
EgyptAir flight 804 disappears over the Mediterranean Sea On May 19, 2016, 66 passengers and crew flying from Cairo to Paris on EgyptAir flight 804 disappeared over the Mediterranean Sea.
It took a month to find the wreckage.
At first the flight was thought to be a casualty of terrorism, but the true cause was revealed the next year. After debate and investigation, French authorities discredited the Egyptian claim that explosive materials were found in the remains, and that a fire had caused the plane to go down.
According to records from the black box, the flight was about 40 minutes from its destination when smoke was detected by onboard fire alarms. Just a minute later, more smoke was reportedly observed in the electronics and computers below the cockpit. The plane then made a 90-degree turn, circled and plummeted, breaking up in midair before crashing into the ocean below.
After the flight went down, investigation teams from several countries searched for the remains. While some of the belongings of passengers and pieces of the plane washed up days later, it wasn't until June that the full plane was found underwater. While the Egyptian investigation team claimed that explosive materials were found in the wreckage, French investigators countered that there were signs of a fire and a midair break up, not an explosion.
The flight's disappearance, along with an incident involving a Russian passenger plane being brought down over the Sinai Peninsula just a few months earlier, renewed security concerns and fears of terrorism.
---
Monday, May 18, 2020
2012
Facebook raises $16 billion in largest tech IPO in U.S. history
If this interests you this link will give you the rest of the story.
---
---
---
---
---
---
---
---
---
---
---
---
---
---
---
---
---
---
---
---
---
---
---
---
---
---
---
---
---
---
---
---
---
---
---
---
---
---
---
---
---
---
---
---
---
---
---
---
---
---
---
---
---
---
---
---
---